'A Mini Borough Market' Sunday Times May 2021
BIG NEWS!!!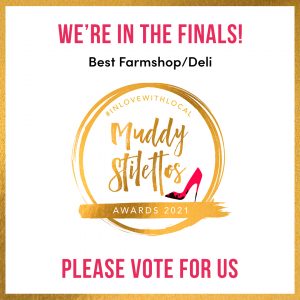 We are in the FINALS of the Muddy Stiletto Awards 2021 – and we would love your vote!
https://somerset.muddystilettos.co.uk/vote/farm-shop-deli
A massive massive thank you to each and every one of you who voted for us in the nominations round 😉
Voting in the finals round now starts again from ZERO – any nomination votes from the first round are NOT carried forward – it is now a straight up competition between each of the 5 finalists
https://somerset.muddystilettos.co.uk/vote/farm-shop-deli
If you nominated us in the first round please vote for us again in the finals and if you didn't nominate us but we are your favourite Farm Shop / Deli out of the final 5 we would love you to vote for us this time!
Every single business that has made the top five in any category, and indeed any business that was nominated at all in the first round, has worked their little socks off in the past year and every one of them deserves your vote. It makes a massive difference to a local independent business to be recognised with a Muddy Stiletto Award so please take the time to look through all the categories and if you recognise a business local to you that deserves a pat on the back get clicking that vote button
https://somerset.muddystilettos.co.uk/vote/farm-shop-deli
Thank you so much for all your support – it genuinely means the world to us and our team!
———————
With it's focus on organic, local, delicious food and drink The Trading Post Farm Shop is an essential stop off; not only for local customers but also for travelers heading to and from the West Country
————-
Monday to Saturday 8.30am to 6pm
Sunday 10am to 4pm
Orders for delivery or collection and for our veg boxscheme will be fulfilled each Tuesday – for further information please email kate@tradingpostfarmshop.co.uk
————-
Just off the A303, nestled amongst the Somerset countryside The Trading Post Farm Shop is a hidden gem that delights with its selection of farm grown organic vegetables, locally sourced food, drink and unusual locally crafted gifts
Open 7 days a week the Trading Post Farm Shop, set on a working organic farm, supports over 150 local suppliers bringing you the best that the West Country has to offer.
The Trading Post is much more than a farm shop though – it is a wholefoods' market, a greengrocers, a deli and a treasure trove all rolled into one.
Fresh bread daily, cakes, biscuits, organically grown fruit and veg, preserves; jam, chutney & pickles, local beer, cider and wine & a stunning selection of West Country spirits.
But we don't just stock your 'normal' farm shop fayre we also carefully select a very wide range of unusual items that make us the go-to place to find that obscure recipe ingredient
We also boast a refill room filled with over 200 lines of zero waste products from grains, rice, pasta and seeds, to dried fruit, nuts, cereal, herbs & spices.
Alongside our food refill room we also hold a wide range of eco-friendly household cleaning and toiletries all available as refill and our crowning glory in the race to zero waste; our organic milk and milkshake vending machine – Belinda!
With shelves stacked full of tempting treats we don't forgot those who have more restrictive diets and our selection of gluten, dairy, sugar free foods is second to none.
Easy access from the A303, with ample car parking we look forward to your visit.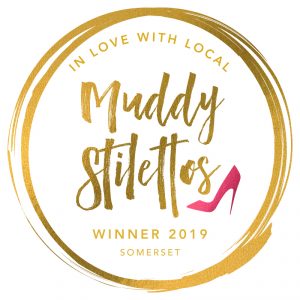 Muddy Stiletto Winner 2018 & 2019 – Best Farm Shop / Deli in Somerset